We Are Your Local Framer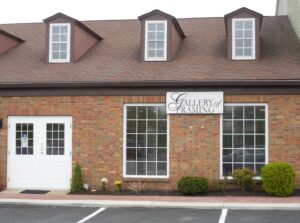 Gallery of Framing, LLC is located in Fairlawn Ohio, specializes in framing that not only accents the beauty of your artwork, but protects it as well. In addition to traditional frames, we also provide specialized custom matting, fine hardwoods and hand-colored French matting. For your more valuable pieces, select preservation framing. The top quality products and framing methods used in this technique are the same that museums use to frame the classics. You can rest assured that your art will be framed by the most qualified professionals.
At Gallery of Framing we carry Crescent, Bainbridge and Antique mat boards. Our over 3,000 moulding samples include lines from Roma, Studio, Bella, Nurre-Caxton, Larson-Juhl, Engelsen among other new and exciting framing companies.
If custom framing is not what you had in mind, we also offer a large array of ready-made frames, closed corner frames and custom created acrylic boxes.
We have a Valiani computerized mat cutter that gives us boundless capabilities for creative mat cutting. The mats are an extension of the artwork that flows into the frame surrounding the piece. It will enhance your art and give you happiness every time you view it.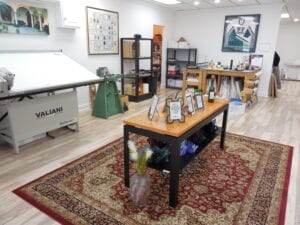 In addition, we have an online contemporary art gallery. Chose from a selection of original paintings and prints by some of today's premier National and International artists. John Taylor Arms, Josef Eidenberger, Simon McWilliams, Laurent Schkolnyk, Ciaran Lennon, Kazuhisa Honda, Zak Prekop, Jimmy Baker, Nevelson and Miles Davis are but a few! Ceramics by Tom Radca, Nico Alesci and Craig Bird are available, as well as a fine selection of art glass. Paintings by local artists Beth Gieroski, Zee Hayes and Jeffery Eason are also featured. We also carry a complete line of artistic greeting cards by Kathie McCurdy.
Gallery of Framing also carries a line of Victorian birth and wedding announcements. Calligraphy service is even available to complete them for you!
Gallery of Framing, LLC is located in the beautiful, quaint plaza, Merchants' Square, across the street from Summit Mall at 139 Ghent Rd. in Fairlawn, Ohio 44333. 
HOURS: Monday 10 a.m. – 4 p.m. , Tuesday – Thursday 10 a.m. – 6 p.m. and Friday – Saturday 10 a.m. – 4 p.m., CLOSED Sunday.  We are proud to be active with our local Chamber of Commerce so a couple days a month we have SPECIAL HOURS: 2nd Monday of each month, 1:15 p.m. – 4:00 p.m. and the 4th Thursday of each month, 10:00 a.m. -11:15 a.m. and 1:15 p.m. – 6:00 p.m.. Other hours by appointment.
Gallery of Framing, LLC is a proud member of the Fairlawn Area Chamber of Commerce and services the communities of Akron, Bath, Copley, Richfield, Medina, Green, Uniontown, Tallmadge, Cuyahoga Falls, Stow & Munroe Falls.
* * *