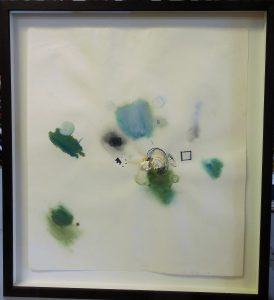 Michelle Fierro (American b. 1967)
"Moving In & Moving Out"
Mixed Media on Paper (Ink, Watercolor, Found paper)
1995
15¾" x 14″ Paper
18¾" x 16¾" Framed
$900
Michelle incorporates found paper among her small ink drawings and patches of green and aqua watercolor.
*The shadowing on the right side is from how the picture was taken. There is no discoloration to the      paper.
Michelle's work is held in the collections of the LAMOCA, Orange County Museum of Art, Museum of contemporary Art – North Miami.